Remix Donations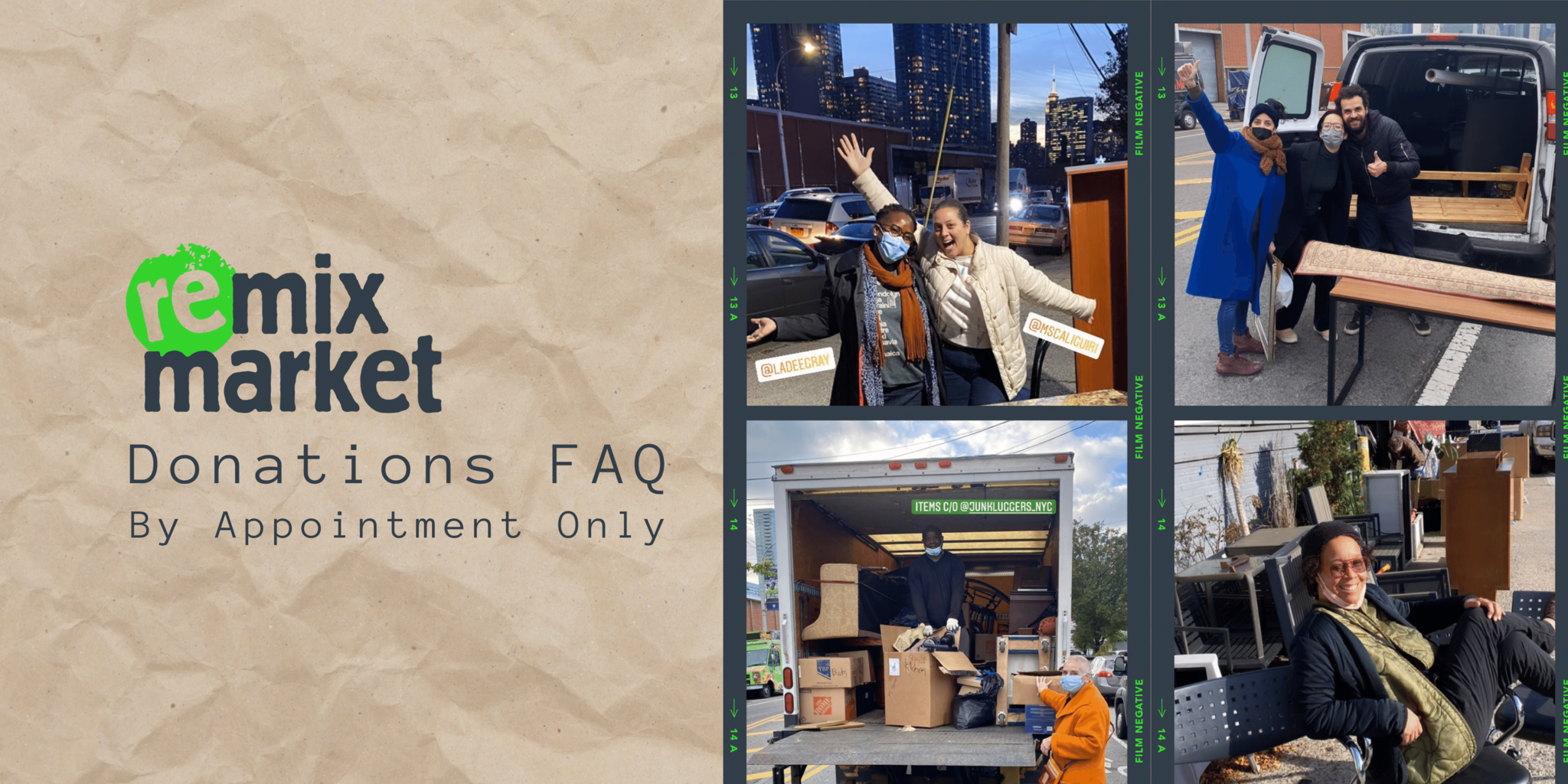 Remix Market NYC does not receive any donations from the general public nor do we buy furniture. All items come exclusively from The Junkluggers of NYC.
WHO: We are honored to offer donations to registered nonprofits, artists, organizers, educators, charitable thrift shops and more across New York City. We are always seeking new partners! 
WHAT: Free donations of secondhand furniture, housewares, dishware, art, mirrors, lighting, and more to nonprofit organizations, educators, organizers, and arts organizations.
WHEN: Weekdays, Monday - Friday, 10 am - 5 pm by appointment only.
WHERE: Remix Market NYC, 10-39 44th Drive Long Island City Queens, NY 11101
WHY: Because we love our community and the environment! 
HOW: Email our Donations Coordinator at [email protected] for a "Nonprofit Pickup Request" and provide clear documentation of your tax-exempt organization status. We will then reply with more info and the link to book an appointment. 
General Info:
Bring your own vehicle, large enough for the items you wish to take.

Provide your own labor, our staff cannot move donations out to your vehicle.

We're first-come, first-serve (no item reservations). However, chances are if something leaves Remix, we'll get a similar item later that week!

All furniture available for donation at our warehouse are labeled with a yellow sticker. If it does not have a yellow sticker it is not available for donation. 

Items are not intended for personal use

. 

Never come for a pickup without first booking an appointment. 
We send out an updated list of available items for donation every Monday evening. Click here to see a recent list! Please note small items are not included on this list, the list is mostly furniture. We often have kitchenware and small household items available for donation as well.
Current Partners Include: 
Habitat ReStore, Housing Works, CURE Thrift, Hour Children, El Barrio Thrift Store, Materials for the Arts, DSNY, NYCHA, The Juilliard School, Boston Lyric Opera, Astoria Performing Arts Center, Stella Adler School of Acting, Services for the Underserved, Anne Mary's Place, Muslim American Society, Astoria Filmmakers Club, African American Women in Cinema, Flux Factory, House of Yes, GLITS, Costume Cultural Society, Educated Little Monsters, New York Edge, Queens Defenders, Grow House NYC, Exquisite Corpse Company, Met Council, African Peach Arts Coalition, Wildlife Conservation Society, Bushwick Ayuda Mutua, Shandaken Projects, UnionDocs Center for Documentary Art, The Bushwick Starr, Target Margin Theater, Queens Botanical Garden, Boys and Girls Club of America, and so many more! Join us! 
Remix Market NYC is owned and operated by The Junkluggers of NYC. Our mission is to keep items donated by Junkluggers customers out of the landfill through donation, reuse, and resale.